IV Wroclaw Model Show 2015
First - a big THANK YOU! for everyone who visited and took part in IV Wrocław Model Show 2015.
It is You - modellers - who create this Show. We are really happy to see increasing number of your great works displayed during the Show every year. This time we clocked 403 models!
We would like to invite you to the Fifth edition of our Wrocław Model Show. The main theme of the upcoming Show is Africa. Details will be published on our FB page and on Internet forums shortly.
•••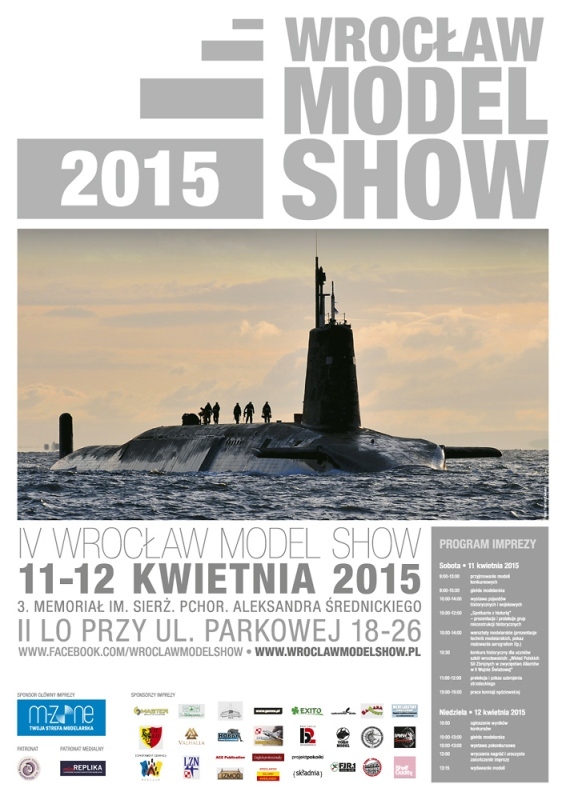 Visit us at:
IV Wrocław Model Show 2015
III Sgt 2nd Lt Aleksander Średnicki Memorial
which will take place on 11-12.04.2015.
in II LO at ul. Parkowa 18-26 in Wroclaw.
__
•••
Online registration is ...well ...online from now on. Registering via our web page is here cut short any possible queues. Just as last year, your card will be ready and waiting for you in separate envelope.
Logins from last year are valid (case-sensitive). In order to keep things uncluttered and simple we removed models that you registered for 3rd WMS 2014.

Special prizes list was updated.
For everyone arriving - there are still some rooms free at Greenhostel - which is most convinient location-wise. You can join our friends from Warsaw, Konstancin, Krakow and ISMR. It is located about 400m from WMS site, and 300m from newest Wroclaw attraction. This gives another reason to get your models and family packed and going our direction.ju.
Pozdrawiamy i do zobaczenia we Wrocławiu!
Time has finally come to officially announce the upcoming 4th Wrocław Model Show. The 2015 event will be held on 11-12 April, and as prevoiusly we will enjoy courtesy of 2nd High School, Parkowa St. 18-26 in Wrocław, Poland.

Compared to the last year there are two changes in general terms:
1. New starting class is introduced: Open 31 (O31) Motorbikes (all scales)
2. Number of models awarded in given class will depend on model quality. In recent years there had been many cases when more top quality models competed in single class. It was real shame not to award more of them. There is a backfire though - if the class is poor, there might be no awards at all. We chose to employ this method, rather than stick to fixed number of distinctions, to get some flexibility in awarding good, spectacular, intriguing models. At the same time this allows us to give stronger signal that in some classes you need to try harder.

Earlier on we introduced theme for 2015 edition - Africa. After longer discussions we decided to move it to the 2016 edition of Wrocław Model Show. This gives you more time to build outstanding theme models, and gives us more time to make it work.

Confirmed special awards list will be published on the 7th March 2015. Also on the same day the online registration will open. We strongly encourage you to visit our website: www.wroclawmodelshow.pl to submit your entries before the event. The registration form is available (at the moment of writing) in English as well as in Polish.

Finally, we received generous help from local modeller retailer - M-Zone (www.m-zone.pl) who became a general sponsor of our event.
__
•••
The first edition of our model show which took place in 2012 was quite a spontaneous action by local modellers community of Lower Silesia. The second one was simply a follow-up thanks to a big (and growing) public attention. Let us say – third time lucky! Read more...
See you in Wrocław!